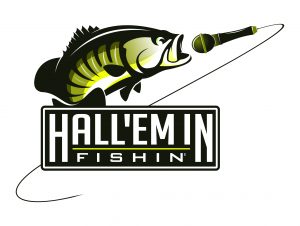 In this episode #2-2018 Hall'Em In Fishin' Host Captain Scott Hall takes you on a trip to Grand Cayman! sponsored by Coastal Angler Magazine, Fort Myers…  We begin the Gran Cayman dialogue with Captain Mark Combs of the "Night Moves" (a 77′ Marlow Yacht) where he talks about the lifestyle, culture and draw the islands have to tourists and the Cruise Line Industry. Captain Mark goes on to mention the many sporting options on the island, the food and of course the fantastic fishing!
After a short break we bring you Segment 2 of the show featuring the legendary fisherman and Captain, Charles Ebanks. Captain Ebanks shares with us in a distinctive island accent his experience fishing the well known fishing tournaments in the Caymans. He goes on to talk about his favorite fishing spots and the incredibly clear water that goes from knee deep at Stingray City (a sandbar located off shore) to over 1,000 feet deep less than a few yards away. Charles gives us some great insight about how to choose the right fishing trip or stingray excursion while visiting Grand Cayman while touting the atmosphere and hospitality of the island. Charles is now working privately on a 50 foot Viking Yacht for an individual owner but is always available around the marina to answer you questions or point you in the right direction. Captain Scott said "Charles was a true gentleman and so humble about his island status…he was a true please to speak with"
Tune in and enjoy this exciting new episode and as always don't forget to subscribe to our variety of shows by clicking the links on our home page, like us on Facebook @hallaroundtownradio and follow us on Instagram and Twitter @hallaroundtown. (there are clickable links on our home page also) See you on the water!!

Podcast: Play in new window | Download (Duration: 20:10 — 25.2MB) | Embed
Subscribe: Apple Podcasts | Android | Email | Google Podcasts | Stitcher | TuneIn | RSS