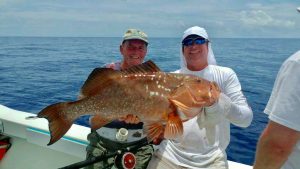 In this episode of Hall'Em In Fishin' we take you off-shore with Captain Bill Curtis with Fish-n-Tales Charters. Bill along with vessel owner Captain Scott Lavis provide private off-shore charter fishing out of Fort Myers, Ft. Myers Beach, or Bonita Springs in the Southwest Florida area.  During the show Captain Bill gives us some insight into what's being caught in the deeper waters of the Gulf of Mexico and provides some great advice on booking your first off-shore fishing experience! A day of fishing with Captain Bill may include the chance to catch red, gag, black, and scamp grouper, mangrove, lane, vermillion, and red snapper, kingfish, cobia, amberjack, sharks and others.  Their trips on the 38′ Seahawk named Fish-n-Tales out of Fish Tale Marina in Fort Myers beach is where you can enjoy an offshore trip on this incredibly comfortable fish catching boat. Whether you are looking for a fishing, or sightseeing charter, the Fish-n-Tales Captains and crew members will offer you the trip of a lifetime. We learn that their offshore fishing trips, for up to 6 people, predominantly for grouper and snapper range from 5-10 hours. Captain Bill will also give you info during today's episode on how to book the outstanding experience of an incredible day on the Fish-n-Tales in the rich subtropical waters off Florida's Southwest Coast.
In addition to our off-shore fishing topic today, Captain Neil Eisner joins us and "Talks Tackle" from Rods, Reels, Line, Leader and the business end with C&B Custom Jigs!
To check available dates, pricing and to make a reservation on the Fish-n-Tales, please call Captain Scott Lavis at (239) 770-7066.
Subscribe to all of our programming and social media by clicking on our HOME page @hallaroundtownradio.com 
Podcast: Play in new window | Download (Duration: 27:06 — 34.2MB) | Embed
Subscribe: Apple Podcasts | Android | Email | Google Podcasts | Stitcher | TuneIn | RSS