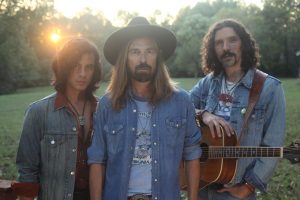 It's All About Peace, Love, and Harmony in this episode of "Backstage Hall Pass". Join your host Scott Hall as he has some dialogue with Kevin, Jamey and Phoenix from High South!
The media world was captivated by the emotional debut album "Now" by American musicians, High South. Their sound is evocative of sunshine, freedom and the southern United States, and certainly reminiscent of their heroes – harmony vocal groups like THE EAGLES, THE BYRDS and CROSBY, STILLS, NASH AND YOUNG. The magic that lies within this musical decade and in the timeless songs that were never crushed by fads or trends and HIGH SOUTH seems to be exactly the band that will deliver the spirit of this music in the future…
Shortly after the release of the band's first CD in Summer 2013, High South charted Top 10 in several countries in Europe. Directly on the heels of countless live shows, including radio and television performances in Europe and the very successful debut CD, these creative musicians and songwriters started writing and recording their second album, which has the same name as the band itself – HIGH SOUTH. "We wanted an album title with a statement", says Jamey Garner, "because we feel like we've discovered our voice both as artists and as a band."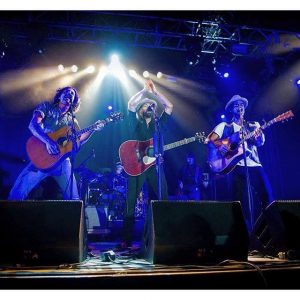 The band's very personal follow-up CD, which was recorded almost entirely in a "live studio situation" was co-produced by band Manager, Christian Knoll – who has remained a constant and influential part of the High South story from the very beginning – and legendary Nashville Engineer/Producer and Grammy Award winner Chuck Ainlay.
High South has most recently joined forces with Nashville producer songwriter and guitar legend, Josh
Leo. Together they are finishing their third Studio CD in Nashville Tennessee.
High South band mates – Kevin Campos, Jamey Garner and Phoenix Mendoza – three gifted "lead singer-songwriters" delivering one undeniable voice. In this episode of Backstage Hall Pass we explore the bands influences, history, tour dates, songwriting and musical memories!
"Their harmonies are so perfect and I smile as it takes me back to the first time I heard CROSBY, STILLS, NASH, AND YOUNG…" – Kim Carnes, Music Artist.
Podcast: Play in new window | Download (Duration: 35:39 — 42.9MB) | Embed
Subscribe: Apple Podcasts | Google Podcasts | Stitcher | Email | TuneIn | RSS