Halloween "Live" at JD Legends with Ari Lehman "The First Jason Vorhees" Backstage Hall Pass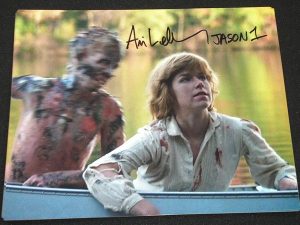 Join your host Scott Hall and Skip Mattan "Live" from JD Legends as they take you on a "Backstage Hall Pass" journey to Camp Crystal Lake with First Jason! On the night of May 9th 1980, theater audiences were witness to the brutal murders of 13 people—murders carried out in ways never before seen on screen. Finally after 90 minutes of unprecedented brutality, the crowds watched as the heroine of the film, the one survivor, floated on a boat away from the carnage toward the morning light. The calming music, early daylight, and approaching police cars let everyone know it was okay, it was over. That's when HE showed up: the boy in the lake, Jason Vorhees. He leapt from the water, deformed, covered in seaweed and rot and dragged the last survivor into the water. And thus, the legend of Jason Vorhees was truly born.
The young actor who played that role is Ari Lehman. He was only on screen for a few seconds, but many people feel that those few seconds are the most frightening of the entire Friday the 13th series. Those few seconds of film have terrified audiences for 35 years now. Nowadays, Ari Lehman is an accomplished musician and the front-man of the band First Jason. We caught up with Ari for a phone interview prior to his upcoming tour in Germany, England and winding up tonight at the JD Legends "Helloween" Event.
Give this "Spooktacular" episode a listen as we take you behind the scenes of one of the most iconic horror films of all time! Tickets are still available for the First Jason show at JD Legends click their link on our sponsor page for more info! Don't forget to hit that "Like" button on our Facebook Page and follow us on Instagram and Twitter!  There are button links on our home page (just click HERE)
Podcast: Play in new window | Download (Duration: 23:19 — 29.5MB) | Embed
Subscribe: Android | Email | Google Podcasts | RSS