Ethan & Joey on "Backstage Hall Pass"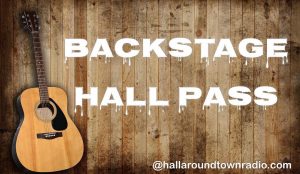 Join your host Scott Hall as he brings you a great half hour of music talk with recording artists Ethan & Joey! The Acoustic Duo sits down at the "Tiki Bar" for an interview filled with music, memories and laughter prior to their show on July 6, 2017 at JD Legends in Franklin, Ohio.  Ethan & Joey bring a unique style to their live performances with fun crowd interaction while taking requests and claiming to know at least 15 seconds of most songs. However Ethan & Joey are no comedy act. Their excellent acoustic guitar work is complimented by outstanding vocal harmonies! Known for being the "Hardest Working Band In The Tri-State" (that's Ohio, Kentucky and Indiana) the duo brings you an entertaining evening to remember during their many performances each week.
We feature their latest song "The Road" in the show and to find out more about their album, a future video and what brought the two together take a listen to this episode on the link below! You can also like the duo on Facebook and visit their website @ Ethan & Joey.
Don't forget to subscribe to all our podcasts on our home page, Like us on Facebook and follow us on Instagram and Twitter by clicking the links on our home page as well!  Backstage Hall Pass is written and produced by hallaroundtownradio.com
Podcast: Play in new window | Download (Duration: 33:24 — 35.8MB) | Embed
Subscribe: Apple Podcasts | Android | Email | Google Podcasts | Stitcher | TuneIn | RSS