Backstage Hall Pass goes behind the music with the Kevin McCoy Band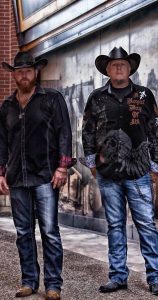 Join your Backstage Hall Pass host Scott Hall as he takes you behind the music of the Kevin McCoy Band! In this episode the interview takes place at JD legends in Franklin, Ohio before two members of the band, Kevin and Lee take the stage in an "Unplugged" show.
The Kevin McCoy Band had a blow-out year after the early 2017 summer release of their début album "Redneck-N-Roll. Their album gained national attention and landed a nomination for Independent Artist "Group of the Year" in the 2017 Josie Awards hosted in Nashville, Tennessee. The KMB was also featured in Cincinnati's music authority, CityBeat Magazine. Other feature articles include the Pinefield Farm Studio & Gallery publication as well as Fair Play Country Music Magazine. Redneck-N-Roll is available on our website as well as iTunes, Spotify, BandCamp, or anywhere else you buy your music.
Following a busy & accomplished year, the KMB is cocked, locked and ready to rock the 2018 season. Following their debut album release, the KMB played the road and plugged in year-round.  Now, with the busy outdoor venue season in sight, the Kevin McCoy band is poised for a high-octane summer.
Complete with an A-list talent roster and a repertoire that screams for something wild and out of control, the Kevin McCoy Band is excited to play some new venues and for the chance to bring a taste of Cincinnati's own KMB to the rest of the country.
As always, don't forget to hit that "Like" button on our Facebook Page and follow us on YouTube, Instagram and Twitter! There are button links on our home page (just click HERE). Subscribe to all of our programming and social media by clicking on our HOME page @hallaroundtownradio.com
Podcast: Play in new window | Download (Duration: 10:32 — 11.2MB) | Embed
Subscribe: Google Podcasts | Email | RSS