Aaron Lewis Pre-Show… Backstage Hall Pass Brings You…. The Jake Roberts Band!
If your a fan of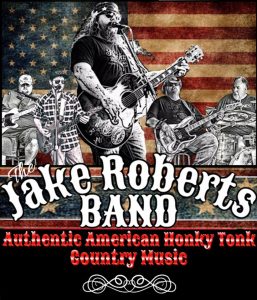 "Outlaw Country" with some incredible vocals and a band that will amaze you every time then you're not alone! One of the tri-states most popular country acts "The Jake Roberts Band" will open for the SOLD OUT Aaron Lewis show at JD Legends Concerts on Saturday, September 30th. In this episode of Backstage Hall Pass, Scott digs into the background, history and future of the group in a behind the scenes interview with their front man Jake Roberts. Jake comes from a family of musicians and has put together some incredibly talented musicians to package his "American Honky Tonk" style.
Jake discusses his thoughts on fame, family, friends and the future of the Jake Roberts Band.  We also talk about the major shows he has opened for and his grueling 275 shows per year schedule.
So if you're looking to return to some old school "outlaw" country sounds check out the music of "The Jake Roberts Band" We are exited to see an "unplugged" version of the band open for Aaron Lewis and hope you enjoy this inside look into their background and music! Thanks also to JD Legends for sponsoring your behind the scenes look at the music industry on Backstage Hall Pass!
Click on the play link below to hear the show and don't forget to subscribe to all our programming by hitting the links on the right!  You can also "Like" us on Facebook and "Follow us on Instagram and Twitter by checking out the links on  our home page!
Podcast: Play in new window | Download (Duration: 21:35 — 25.4MB) | Embed
Subscribe: Google Podcasts | Email | RSS